How safe is my personal information?
This website uses a Secure Sockets Layer (SSL) protocol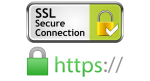 to encrypt all personal data transfer during your browsing and check out process.
Is creating multiple accounts allowed?
Sorry, in order to prevent users from taking advantage of our beneficial system and coupon campaigns every now and then, you're not allowed to register multiple accounts here for the sake of fairness and transparency.
What are the payment options at Rarebest3D?
All major credit card brands, as well as Paypal & Alipay, please choose the best convenient option when you check out.
How can I use the coins I earned from the previous orders?
There will be an extra option displayed during your checkout, just simply input the quantity of the coins that you would like to spend and click "Apply Discount". For more information, please visit here.
Can I use a purchased product for commercial purposes or game development?
That depends on the license you purchased with the product, here's our License Terms.
What is the Free Bespoke Version?
If there's any personal refining you need for the scene or outfit etc., like splitting an object or changing length (all free for minor adjustments), if you need to install sth. such as a window, door, creating certain scenes, morphs or accessories for environments or characters and so on. we're all happy to help and try our best to make it cost as little as possible, please submit your request here, you'll have your bespoke version ready in 48 hours depending on the changes.
How can I reach out to you with any questions?
You can either send email to [email protected] or have a LiveChat with us (Leave offline message if unavailable).